New Or Replacement Concrete Driveway Cost
Your home's driveway adds considerably to your property's overall appearance and curb appeal. If your concrete driveway becomes cracked and crumbling, it can really detract from your property's overall look and value.
Why Choose a Concrete Driveway
When choosing a material for your driveway, there are a lot of things to think about.
Concrete is a favored material for many building projects. Whether you're building a new concrete walkway or a driveway, concrete offers many advantages key advantages over its competitors.
Although concrete driveway replacement costs can be a turn-off for some, this product offers massive value for money and, when correctly installed, offers a great return on investment.
Advantages of Concrete
Repairing a concrete driveway is no small job, but luckily this material has many advantages.
Eco-Friendly
Environmentally conscious homeowners try to limit their carbon footprint. Concrete is regarded to be a green building material when compared to other materials like asphalt.
Low Maintenance
Considering today's busy lifestyles, few homeowners have the time to perform regular and labor-intensive maintenance on their properties.
This is why concrete has remained so popular.
Although not maintenance-free,  once installed and a good-quality concrete sealer has been applied, you can expect to perform some light maintenance as little as once every 12 – 18 months.
Endless Options
Concrete is quite versatile and with a variety of different textures, patterns, and colors that can be achieved, why settle for a boring slab of concrete. Nowadays the driveway matches the aesthetic appeal of your property and it's easy to see why concrete is the first choice for so many consumers.
The Cons of Concrete
Concrete on its own can be very unattractive. Without a bit of color stamping, it can detract from your property's aesthetic appeal. On the other hand, decorative treatments require more maintenance, making it a double-edged sword.
Most concrete driveways will deteriorate fast from oil and other fluids dripping from your vehicle.
How Much Does a Concrete Driveway Cost?
As with most home remodeling or installation projects, there are many factors to consider that can inevitably affect the overall concrete driveway replacement costs.  Costs will vary by location, size of the project, and current cost for materials and labor.
Although it is possible to pour a concrete driveway yourself, time is critical. Poured concrete hardens really fast. Without the neccesary equipment and skill, you're at risk of increasing your overall concrete driveway pricing. It's usually a job for professionals.
Average Costs
On average, expect to budget in the region of $3,000 for an average 16′ x 40′ driveway. If you are a team of DIYers, you could be looking at $1,585 or more. However, if you are very particular about your unique requirements and have a slightly larger concrete driveway to pour, expect to budget anywhere between $6,900 – $9,000.
A plain gray concrete driveway replacement cost with no decorative finish or colors should come in anywhere between $5 – $7 per sq. ft. to install. However, should you opt for decorative colors and finish, it can be as much as $18 per sq. ft, although the national average tends to even out around $8 – $10 per sq ft. 
Excavation cost
Excavation may be necessary before pouring a new concrete driveway. Preparing the area can add anywhere from $0.50 – $1.50 per sq. ft.  This should include the use of tools as well as the removal of shrubs, boulders, trees, and stumps.
Stamped Concrete
Stamped concrete driveways costs can be really attractive when you consider the return on investment with the instant curb appeal. It can turn a regular concrete driveway into something a lot more appealing with specialized design, colors, and textures. It's a very appealing and economical alternative to natural stone.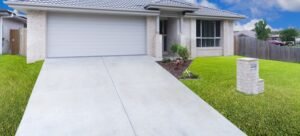 Basic stamped concrete should cost between $8 – $12 per sq. ft. Multiple stamp patterns or even detailed hand-coloring, you're looking at $18+ per sq. ft.
Naturally, costs will vary by location, size of the project, and current cost for materials and labor in your regional location.
However, for the average stamped concrete driveway of 16′ x 40′, expect to pay roughly $5,200 for something basic.
Looking for a driveway with a basic pattern, mid-range costs come in at around $7,725, while a more complicated design with some colors added can range from $11,250 or more.
Get in Touch With Local Experts
As is evident, there are many different factors that can influence the overall concrete driveway pricing in your regional location. Ultimately, the size of your project, the contractor you choose, and your regional pricing trends will all play a part.
We highly recommend you request a free quote from a local expert so that you can compare costs and find the best one while also discussing all your options with a local professional.